My Bdae Cake !!

Today is my big and only dae in a year.....MY BIRTHDAY !!! =) =)
My mum bought a chocolate cake from Beagawan Solo.....It super tasty it's super creamy but one wouldn't feel sick eating it cos it's really PuReEeE Chocolate !! hahaz =)
u See there's only one candle Guess why ?? cos we have 2 birthday kids.........which is ME and my daddy so we just put 1 candle to save all the trouble. =)
YiLiN
5/25/2005 10:01:00 PM
Blowing !

Both my father and me are the bdae stars on 26th may !! Such a coincidence........there's advantahes of having the same bdae as my dad. Firstly.......i get to celebrate in a more "festive" way ......hahaz sounds stupid !~ =) Look at my dad's face....not even posing well for this photo.....unlike mi......posing soooo well for this photo....Muahahhaha
YiLiN
5/25/2005 09:29:00 AM
wHoeSome~!

My whole family (minus my 1st younger sis cos she's sleeping) is posing for a photo. My small little brother is sooooooooo cute !!! look at him he looks totally blur with his glasses. hahhaz....and my big sized 2nd younger sister.....she's even has a bigger bulid then me !! hahhaz....but at least she's got much nicer hair than mine.....her hair is STRIAGHT !!! so unfair.....=( Wahahha but it's okie.......cos i'm nice in my own ways too !! (n_n)*
YiLiN
5/25/2005 09:07:00 AM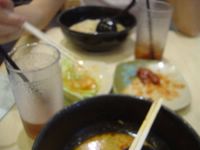 Food Menu

List of what we ate, @ bowls of ramen, plate of baby octopus and plate od sea whelk. @ cups of ice lemon tea Haa haa we don't even know what's sea whelk but we just ordered it~ And it taste bit weird gummy feeling when u chew it~
YiLiN
5/23/2005 10:26:00 PM
Concentrating

After the kbox session, we went to had our dinner at Aijisen spelling correct ? i dunno.....hahaz The serving is quite big and i couldn't finish but normally it's no prob to me !! hahaz.....sounds like a pig. I was concentrating real hard to the Ramen to my ladle when junjie took this horrible pic of a concentrated face of mine. Yucks ~ my mouth is slightly crooked cos i was still chewing my food. Looks Delicious huh ?!
YiLiN
5/23/2005 10:19:00 PM
Singing !!

Went to kbox on Sat with my fren junjie hahaz....we sang till like siao or rather just me onli. Look at the photo don't i look like a Singing Queen !! Muahahha.....i think i do !! Sing, drink ,sing, drink tt's what we did the whole kbox session~ Got a few times we sang off key cos the pitch is just tooOooO high to follow. =P Though with a sore throat, my singing ability was just as GOOD !!! Wahahha thank you thank you !!! =)
YiLiN
5/23/2005 10:17:00 PM
Feeling bored.....got nth to do at home after losing my job....sick !!
POsting a entry in a cool afternoon....=)
Got nth to do at all !!!!
Sianz
YiLiN
5/15/2005 10:13:00 PM
BleAhZzZ~!

EhwWwW......Gerie making stupid faces outside HerBsZ ...Waste my camera battery !! Mauahaha =) Guess where we are ??!!
YiLiN
5/14/2005 09:18:00 AM
MiRrOr ImAgE ~!

Went out with my bestie bud....GERIE to celebrate her bdae......took quite alot of photos in a TOILET???!! Wahaha.......so funni......Everyone keep staring us. The restrooms in scotts shopping centre is realli nice so we choose to took photos there. =) siao hor ??
See our necklace ?? We just bought in Acessories.....spent a small fortune on it !! Boo Hoo Hoo !! Tt gerie keep using all kinds of methods to persuade mi to buy !!! Hate her Hate her !! Make mi spent $$ again!! but it's realli worth it lah !! it's nice i admit =Þ
YiLiN
5/14/2005 09:18:00 AM
Mother's Dae....Planning to buy my mum a yoga mat becos she just took up a yoga course. Cool ah ?? she's super flexi unlike me......stiff as a log !! Mi and lakshmi decide to take up a dancing+aerobic course to lose weight and to tone our body....hahaz !!
But she wans to mi join her in her cooking course too..... Cooking ??!! i can't do it !! i'm super fidgetive and can't really learn properly cos i need to take up smth exciting and interesting So i'm searching for it......If anyne got any recommandation plas leave a tag.
Tml is a mondae again !! Starting working tml at 830 need to wake up early.........EhWwW
I'm so touched by what some1 said to me and i'm really glad.......=)
YiLiN
5/08/2005 07:17:00 AM
Woo Hoo.......today is EFSC bbq at iras. It starts at 6 and quite a alot of people came.......It's been almost a week since we haven't seen all our colleagues....I was quite sure this bbq is gonna be a fun one and i was RIGHT !!
We have many varieties of food ranging from mee siam to satays ( my Fav !!). Of cos our dearest organizer Farhan came.....Thx to him we are able to have this bbq. After the eating part we went arf taking photos.....think all of them are blinded by the flash.
I've alreadi uploaded the photos i took to the frenster photo album every1 are welcome to have a peek. =) All the photos in there are super terrific.....go see yourself !! =Þ
YiLiN
5/06/2005 08:33:00 AM
Went out today with my bestie fren , GERIE !! haven't went out with her for a long long time. And indeed she make me burn a hole in my pocket.....lolx....We went to pastamania to have our normal dosage of pasta....Fatty !! ArgHhH then went shopping in town. Gerie psycho to buy so many things make me spend so much !!! Hate her !! =)
Bought a pinkie flower brooch it's super nice with Gerie introduction, bought from the flowers in the attic in Heeren. Both of us bought a small mini jacket mine's a yellow one while Gerie's pink(as usual) Super tiring haven't been out shopping this tired......
Alright...A earli HAPPY BADE TO U !! May all ur wishes come true and hope u are able to save more $$. hehe ~
YiLiN
5/03/2005 07:03:00 AM
Today is labour Day....a special day for all working ppl
Went to Queensway to buy a pair of nike sports shoes for netball
Just repair the comp...finally !!
Goin to teach tuition later at Seng Keng then shopping with my mum
Last day at EFSC is over....feeling very lost cos wouldn't be seeing all my colleagues
Tml is goin to be a new day at IRAS at the 2nd wating area
Farewell ! =)
YiLiN
5/01/2005 06:35:00 PM